Blitzschwob's Blitzlaedle
an unusual but cheap stamp shop!
Especially for all my friends in foreign countries I created a small unusual stamp shop starting with some years German stamps. For a long time I did not want to buy and sell but now the duplicates in my German books grow and grow so I have to find another way.
As I was a school boy I often visited an old dealer on the way home where I could buy stamps for 10 Pfennig. He had a lot of books where I could choose from. So I will do the same for 10 Cent (I speak from Eurocent, not Poundcent or Dollarcent or ...). I do not have a look at catalogue value but only at the number of duplicates in my books.
Well, there are too "better" sets which I cannot offer for 10 Cent a stamp. For these things I will write the price in the list. If there is no price you will get every item for 10 Cent. From the column "mint" you will get only "mint never hinged, MNH" stamps. Used stamps you will get only round cancelled, no waves or advertisement boxes. German CTOs are for me too normal cancelled stamps because nobody gets them for a lower price. If you do not want to have such stamps please tell me!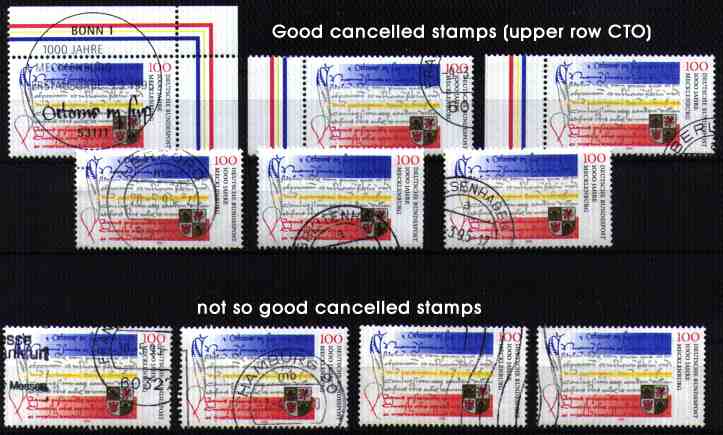 I have organized all my stamps by catalogue numbers of German MICHEL catalogue. Because a lot of you will not have this catalogue I add a link for every year to my internet catalogue. Please find first out the numbers of your wants. Then you can order with this numbers.
How to use this shop:
Please give me a mail with the MICHEL numbers of your wants and I will prepare your letter. Then you get a bill for all what I found for you and then you have to pay. I prefer money transfer to my account in Germany. Well, I know that this is a problem for collectors from out of Europe so you can pay from abroad by paypal. But please not if you order only for 10 Cent and not from European countries where you can pay by BIC and IBAN! For shipping you have to pay only what I need and you will get fine stamps on the envelope. Here the shipping prices from Germany:
20 Gramm letter worldwide: 0,75 Euro
50 Gramm letter worldwide: 1,50 Euro
500 Gramm letter worldwide: 3,45 Euro
Registration worldwide +2,15 Euro – but only if you want.
Because this shop is a lot of work it will grow during the time. If there is anything what I can do better – we can talk about all! Sorry about my poor English, I learned it 50 years ago and did not have the possibility to practice it.
Enter the Shop
My English Exchange Page
Impressum